What is a franchise? A complete guide
A franchise provides the right to use a firm's business model and carry out commercial activities, such as distributing goods and services, under the same brand. It's a type of licensing relationship between a government or company and an individual or group. Ever wondered what a franchise business is? You wouldn't be alone.
But franchises are a common way of doing business around the world, and famous examples include: McDonald's, Marriott International, 7 Eleven, Supercuts and Krispy Kreme.
In fact, franchises can operate in almost any industry. The owners of franchise businesses – also known as 'franchisors' – sell the rights to their business model, logo, name, uniforms and anything else relevant to third-party retailers. These independent operators are known as 'franchisees'. When a franchising agreement is signed, the franchisor sells, and the franchisee buys, the right to use the following: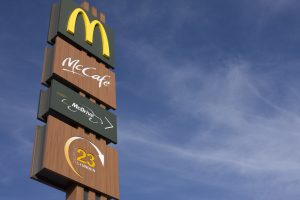 The franchisor's name and business systems
Operations manual
All marketing materials
Software
All proprietary material
But why would both parties want to enter such an agreement? Investing in a successful business has several benefits for franchisees:
An already-established name with a proven business model
Less risk involved, as they will be selling to an existing customer base
The opportunity to be your own boss
On-going support with marketing, sales and operations
A clear picture of the competition and how the franchise differentiates itself
For the owners of the business, there are financial benefits. They receive an initial fee for the rights to the business, as well as payment for any training and equipment required. What's more, for every franchisee operating, they'll get an ongoing royalty payment. This could be on a monthly, quarterly, or annual basis – depending on the individual agreement. The amount is usually a percentage of the franchise operation's gross sales.
Their business can also grow as a franchise, whilst remaining the same across a greater presence. Although a franchise is a type of business that's operated by individuals, the larger franchisor still oversees operations and branding. They'll want to protect their intellectual property and ensure all those operating under the shared name are adhering to brand guidelines.
For the end customers, whatever franchise they interact with, it should always feel like the same business. This way of quickly increasing distribution is beneficial for franchisors because it doesn't require investment on their part. The business will also gain from economics of scale – for instance, when buying materials, supplies and services, like advertising, as well as in negotiations for new lease terms. With a solid business proposition, potential franchisees will come to them.
Top tips on choosing a franchise that's right for you
That's not to say there are no potential drawbacks, though. Before anyone signs a franchise agreement, it's got to be the right fit. It's no good for a franchisee to take on a business opportunity that doesn't suit their skillset or experience. As such, we've got the following top tips on choosing a franchise:
Watch out for trends that are here to stay
Some businesses rise and fall in popularity. You've got to watch the market and keep an eye out for trends that'll endure the test of time. As a franchisee, your initial investment, as well as on-going royalties, have got to be worth it. You don't want to invest in a fleeting fad. Look out for opportunities that have proven themselves, with a solid customer base and operating models that work.
If you're interested in a consumer franchise, you need to find out if the service or product is something people want, and are willing to pay for. If you'd prefer a B2B franchise, think about the needs – and budgets – of business leaders. Do they match up with what the franchise is offering? This is the first indication you're onto a good thing.
After all, a franchisor's brand is its most valuable asset. Brands influence when, where and how customers shop. Consumers don't really mind who owns the assets of a branch, they base their shopping decisions on what they know about the brand, and the service it's known for.
Match your skills with the franchise opportunity
When you buy a franchise, you'll be an affiliated dealer. Although support is available, you'll be responsible for the day-to-day running and profitability of your branch. It's got to be something that suits your existing skills, as well as something you'd enjoy.
The contractual agreement between franchisor and franchisee means they share a brand, but are different businesses legally and practically. For instance, franchisees are free to hire the staff they want, and set employment standards without input. Are you up to the challenge? Although there are benefits from strength in numbers, you'll want to live up to the standards set by others.
As the saying goes, fail to prepare and prepare to fail. Before you commit, make sure you research franchising opportunities extensively. Things you'll want to discover include whether the franchisor, and existing franchisees, are profitable, as well as if the idea could be adapted in your chosen location. Existing success ratios in the industry are a good indicator of your potential future.
Talk to the franchisor in detail, as they'll be able to provide you with all the required materials. Be sure to ask about financial controls too – and don't be shy about it. As a good franchisor, they'll be checking out your credentials too.
Last but not least, ask yourself whether the proposition is unique, credible and appealing. Don't get swept away by overarching figures and statements, and always return to the integrity and commitment of the franchisor, as well as the customer's reaction to the product or service on offer.
Double-check whether a franchise is right for you
Entrepreneurs come up with original ideas, and launch a business from scratch. They'll grow their exposure and customer base over time. Other business experts come in and buy existing businesses. These could be performing well, or poorly. Franchising reduces some of the stresses associated with these operating models.
It's a chance to operate business under an identified brand, with the tools and support needed to match the standards and satisfaction associated with the company name – including a proven system of operating and training in how to replicate it.
But it's not for everyone. Some people would rather go it alone, and have the skills necessary to do so. If you have a clear picture of the competition and want the freedom, there are huge benefits. But with great rewards comes risk. As such, franchising is perfect middle ground for many business leaders. If you're interested, why not check out Post & Packing's franchise opportunity? You could make up to £200,000 in your first year.
7 June, 2017 Chloe SandsChloe Sands